Tamworth 2019
Once again, Graham shone like the brightest star in our heavens.  At the Brumby Awards, which was the first set of awards for the festival, Graham was acknowledged with three of them.  These awards are decided by a group of approximately fifteen country music presenters carefully chosen for their integrity and knowledge of the industry.  This year Graham took out all three of the major awards, namely: Best Songwriter, Best Ballad (Ringers in the Sky) and once again, Best Country Music Album for 2019.
A great achievement Graham, truly very well deserved and a strong acknowledgement of your achievements during the last twelve months.  It is no wonder we regularly hear, particularly from radio presenters a strong link between the name Graham Rodger and the term "King of the Australia Ballad".
Below is a photo of Graham with his Brumby Awards.
<![if !vml]>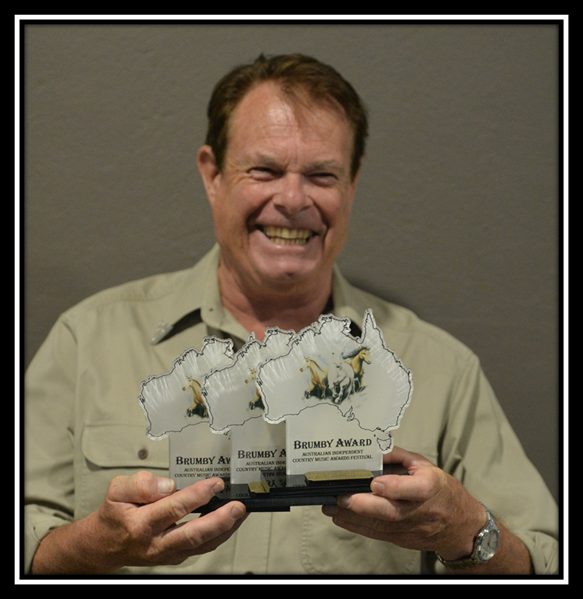 <![endif]>
Click the title for the video of "Ringers in the Sky"                   Click this link for a video of "Tiny Bush Grave"
The Brumby Awards was the opening of the festival for Graham and nine days later was the People's Choice Awards which was the closing of Graham's Tamworth Country Music Festival for 2019.
Again, Graham had an incredibly successful festival as regards the People's Choice Awards.  He is always very thankful for the wonderful support he receives, not only year after year, but all year round.  As was the case in 2018 Graham placed in five finals.  He was the only artist to take out more than one award, as he received acknowledgement for the Best Bush Ballad ("Ringers in the Sky") and once again he was awarded first place in the major category of Best Album for "Ringers in the Sky".  Congratulations Graham, no wonder you are so often referred to as the "King of the Australian Ballad".