Home    Bio    Merchandise    Order Form    Gig Guide    News    Tamworth    Tag Along    Photos    Archives    Contacts
Tag-Along No.7

The Silver City to The Red Centre

April – May 2020

REGISTRATION NOW OPEN.

Please refer to the Tag Along page for details.

ARTISTS JOINING GRAHAM ON THIS TAG-ALONG TOUR

<![if !vml]><![endif]>

Graham Rodger

<![if !vml]><![endif]>

Amber Joy Poulton

<![if !vml]><![endif]>

Matt Scullion

<![if !vml]><![endif]>

Frock 'N Troll
Graham Rodger's latest single
<![if !vml]>
<![endif]>
Knights of the Saddle.
This ballad was released to radio stations in early September 2019.
Listen to your favourite country music station to hear the full version.
You can purchase and download the full single from either
  <![if !vml]>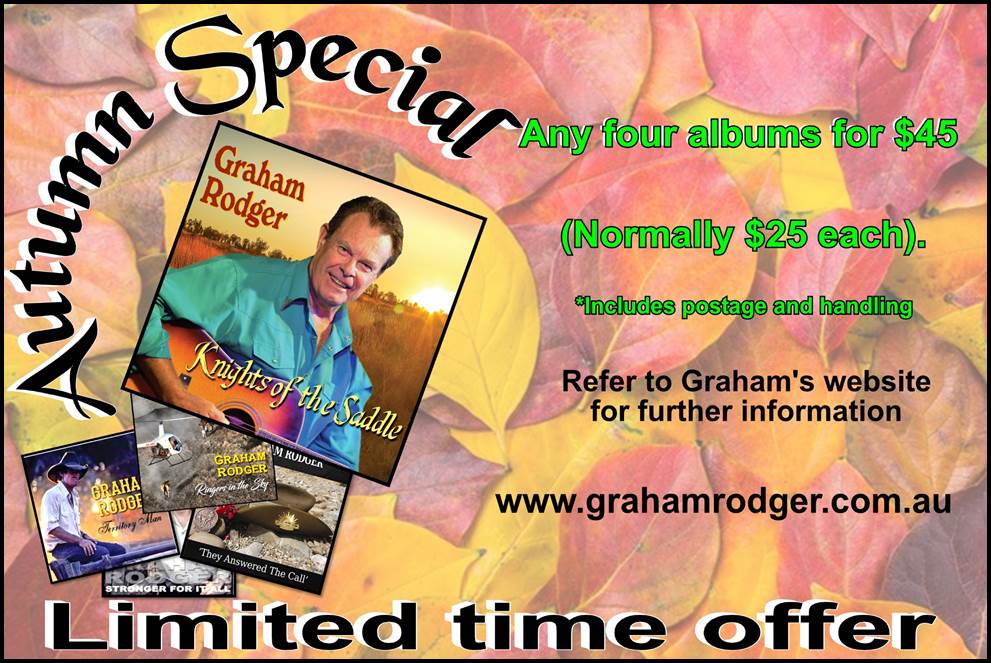 <![endif]> or <![if !vml]>

<![endif]>
A pictorial wrap-up of our previous six Tag-Along Tours can be found by clicking
on the appropriate link on the Archives Page.
___   __  ___   __  ___
Ringers In The Sky

Album No. 17

Refer to the Order Form page to order this or any other album online or by phone.

A full listing of albums and sample music can be found on the Merchandise page

If you would like to view a video clip
of "Uluru", the final track on the new album, click on the image of 'The Rock'.
For information on Tamworth Country Music Festivals or tag-alongs
in years gone by, please refer to the Archives page and follow the appropriate link.
<![if !vml]>

<![endif]>
Home    Bio    Merchandise    Order Form    Gig Guide    News    Tamworth    Tag Along    Photos    Archives    Contacts