Home    Bio    Merchandise    Order Form    Gig Guide    News    Tamworth    Tag Along    Photos    Archives    Trans-Help    Contacts
<![if !vml]>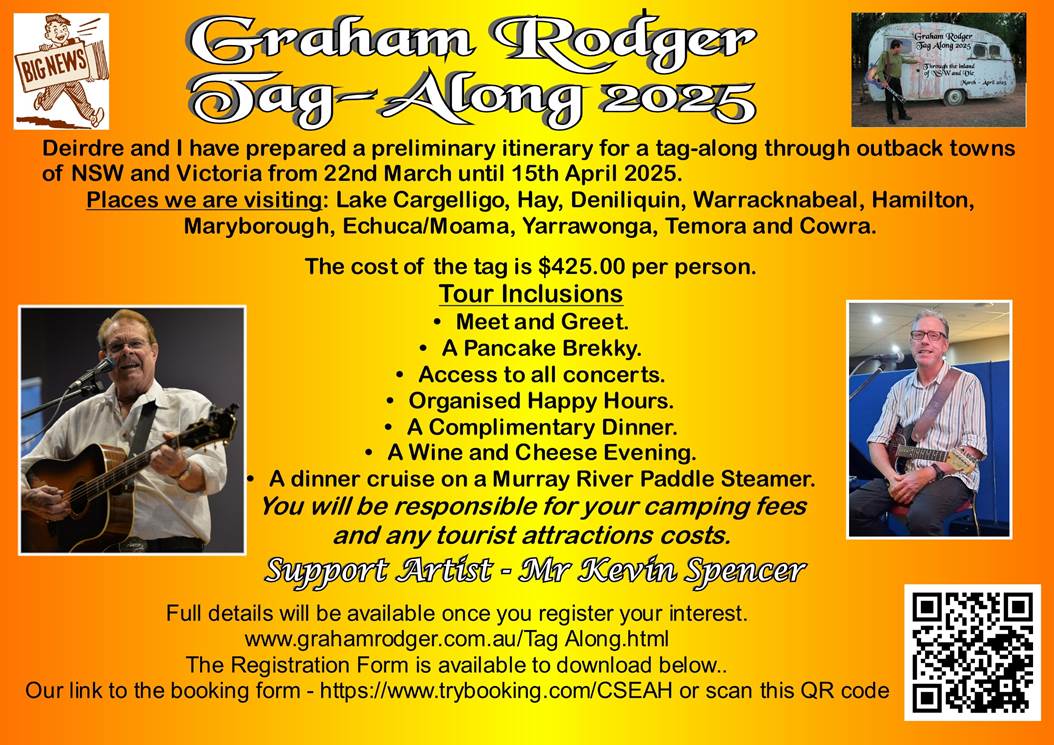 <![endif]>
The official dates for the 2019 tag-along are from May 2nd to May 26th
Don't let life pass you by.  This is an opportunity that will give you new friendships, songs and laughter, adventure and new experiences.  All you need to do is hitch up and join with likeminded people. You will be responsible for all bookings to tourist attractions of your choice and your accommodation arrangements (bookings and payment).
Upon our receipt of your registration form for the tour, you will receive an itinerary with details on each town's accommodation options and contact details.  Once we have completed our full itinerary with towns, show times, etc. we will make this available to you.  During the tour you will receive complimentary copies of our newsletter "Living the Dream" on a regular basis.  This will keep you up to date with daily activities, concert venues and special items of interest along the way whilst on tour.
Thanks to the generosity of two of our 2018 first-time taggers, Kerry and Noel Swain, who have extended an invitation for taggers to spend two days on their property in Carroll in northern NSW before heading across to Lightning Ridge for the official start of the tag-along.  The offer is to spend April 29th and 30th on their property, then convoy across to Lightning Ridge on May 1st for the formal meet and greet on May 2nd.
Self-contained camping is encouraged (due to limited power, water and toilet facilities).
Unfortunately, no on-site accommodation is available on their farm.
BOOKINGS ESSENTIAL AS NUMBERS ON THIS TAG ARE STRICTLY LIMITED.
Line up of top country music performers on this tour.
<![if !vml]><![endif]>

<![if !vml]><![endif]>

<![if !vml]><![endif]>

Graham Rodger
King of the Australian Ballad.

Laura Downing

The Queen
of Comedy

Rob Hopkins

Australia's Answer to
The Man in Black.
As on previous tag-alongs there will be some superb concerts featuring Graham, Laura and Rob.  These will be held in halls or clubs; others to be held in iconic places; under the stars, on top of a jump-up or simply around the campfire.  We will also encounter the very best of tourism that outback Queensland has to offer.
You will experience a welcoming Meet and Greet, a cattle station stopover, a concert and wine tasting at an outback winery, campfire concerts/dinners, a pancake brekky, with the grand finale happening at Big Red in Birdsville with wine and cheese at sunset.
We will include some informal happy hours with taggers entertaining the entertainers and of course, if you wish to learn how to play the ukulele, or simply improve your skills on the instrument you can opt for the ukulele workshops with Rob and Cheryl Hopkins (pack your own uke' if you have one.  Rob has a few to use on the tour if you do not have your own).  Sessions will be organised into the itinerary at times to suit the group.  Rob and Cheryl charge a nominal $5 fee per lesson.  Our ukulele ensemble will perform at our farewell get together in Birdsville, showcasing their newly acquired skills.
You can enjoy all this for the registration fee of just $300 per person.
You will savour some of the most spectacular scenery in inland Australia.  One of the highlights of the tour is the concert at Yaraka.  We will hold it on summit of Mt Slocombe, timed to conclude as the sun sets.  The views are stunning, rivalling Kakadu National Park, and the music will complement the setting to the max.  Other highlights include campfires, thermal pools, an optional underground mine tour with a difference, you can take the self-guided car door tour at Lightning Ridge (details and maps available at the Information Centre), try your luck at catching Yellowbelly on the Cooper and Thompson rivers, a guided tour of an outback property, the list just goes on and on.  These tag-alongs are about mateship, music, laughter, and entertainment by cream of the Australian country music scene.  Each concert will be different with unexpected surprises and even some local talented artists.
An abbreviated itinerary will be sent to you once you have registered to enable you to make your accommodation bookings for the tour.  We strongly advise you to make your bookings as soon as possible.  Remember to mention you are part of the Graham Rodger Tag-Along Tour as we have secured discounts at several locations.
Once all details of this tag-along are finalised you will receive a full itinerary with towns, dates, distances, travel times, concert dates, times and venues, caravan parks, points of interest and more.
DOWNLOAD THE 2019 TAG-ALONG REGISTRATION FORM BY CLICKING ON THIS LINK
Remember, numbers are limited.  To avoid disappointment complete your registration
and submit it as early as possible.
For information on our first five tag-alongs, please click on the links on my archives page.
Home    Bio    Merchandise    Order Form    Gig Guide    News    Tamworth    Tag Along    Photos    Archives    Trans-Help    Contacts